NOWRUZ AT THE MIDNIGHT MISSION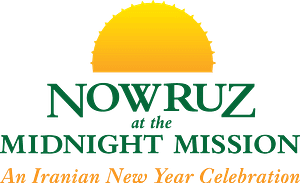 The Midnight Mission has postponed or cancelled all community events that would include close contact between vulnerable individuals in order to limit the risk of exposure to the Coronavirus. This includes Nowruz at The Midnight Mission which was set for Friday, March 27, 2020.
We still need your support. For those who wish to help us meet the urgent need during this crucial time, click here, or text the keyword "Meals" to 71777 on your cell phone to donate today.
On behalf of the thousands of individuals and families we serve each day, thank you for your continued support during this time of great need.
We would also like to thank our sponsors for their continued support!
We extend a special expression of gratitude
to our event sponsors:
Gold Sponsorship
Silver Sponsorship
Razi Family Foundation
Bronze Sponsorship
Rancho Park Rotary Club Foun.
4D Development / David Pourbaba
Satrap Family Trust
Individual Sponsorship
Bijan & Soraya Amin Foundation
Philip G. Paccione
Lobat Ghaemi
Mr. & Mrs. Farrokh Yazdi
Setico, Inc.
The 2003 A.R. LLC
Alireza Rabizadeh
Imperial Plaza LLC
Blue Jay Center, LLC
Santa Maria Commerce Center
Hassan Kheradmandan
Farhad & Fahimeh Saadat